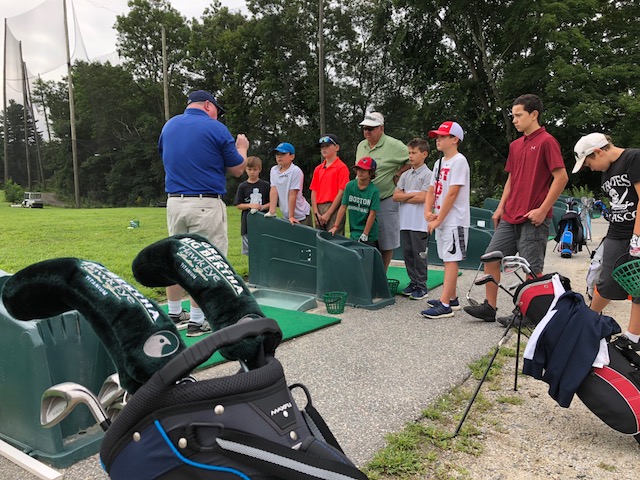 Junior Golf Clinic
Since 1984, the Barrie Bruce Golf Schools has supported Junior golf with lessons(clinics) in a nurturing, safe environment. Safety, etiquette, and good sportsmanship is emphasized in our junior golf lessons, with fun contests and prizes!
Junior Golf Clinic is for boys and girls ages 6-14 brand new to the game , OR
Repeat clinics are encouraged to continue to develop golf skills
Juniors are grouped by age-range, assuring students will play in age-related peer groups
Junior golf lessons (clinics) consist of five (5) 75-minute lessons, held Monday - Friday
Clinics are run during April vacation, weekly during the summer, and 5 fall weekend days
Golf for Girls program is part of this Junior Clinic program
Equipment is available for loan if requested.
Junior golf lessons and clinics are available to boys and girls in Massachusetts ( MA ), New Hampshire ( NH ), and surrounding areas.
RESERVE YOUR CLASS NOW!
It's easy: Find the date/time that works for you, and note the date/CLASS CODE.
Click HERE, and fill out all required information. In the COMMENT BOX, put 'sign me up for Class Code _ _ starting on _/_ (date). Indicate the junior golfers' name and AGE. We will email you a confirmation.
OR, call us at 978-670-5396.
NOTE: Please register by email or phone at LEAST one week before the class starts to avoid being locked out.
BILLERICA Junior 2021 Clinic Schedule
Class Fee: $149
Spring:

SOLD OUT

MON-FRI
9AM - 10:15
4/19 - 4/23
Class JC-A

SOLD OUT

MON-FRI
1PM - 2:15
4/19 - 4/23
Class JC-B
Summer:

SOLD OUT

MON-FRI
9AM - 10:15
6/28 - 7/2
Class JC-C

SOLD OUT

MON-FRI
9AM - 10:15
7/5 - 7/9
Class JC-D

SOLD OUT

MON-FRI
9AM - 10:15
7/12 - 7/16
Class JC-E

SOLD OUT

MON-FRI
9AM - 10:15
7/19 - 7/23
Class JC-F

SOLD OUT

MON-FRI
9AM - 10:15
7/26 - 7/30
Class JC-G

SOLD OUT

MON-FRI
9AM - 10:15
8/2 - 8/6
Class JC-H

SOLD OUT

MON-FRI
9AM - 10:15
8/9 - 8/13
Class JC-I

SOLD OUT

MON-FRI
9AM - 10:15
8/16 - 8/20
Class JC-J
Fall:

SOLD OUT

SAT
9:30AM - 10:45
9/11 - 10/9
Class JC-M

SOLD OUT

SAT
1:00PM - 2:15
9/11 - 10/9
Class JC-N

SOLD OUT

SUN
9:30AM - 10:45
9/12 - 10/10
Class JC-O

SOLD OUT

SUN
1:00PM - 2:15
9/12 - 10/10
Class JC-P
What People Are Saying

Took my two sons to see Barrie. Was one of the best experiences I have ever had. He made my sons feel so important and excited about the game of golf. Couldn't imagine going anywhere else to have my kids learn the game.....absolute class act!

K. Pappalardo