About Us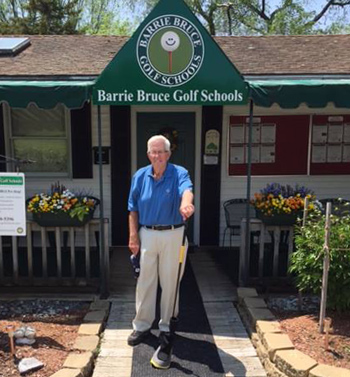 Teaching golf to players of all ages since 1983, Barrie Bruce Golf Schools is a complete instructional facility.
Each year, we help over 700 golfers learn the game, fine-tune skills, and make new friends in the process! Our instructors offer adults and juniors a friendly, hands-on approach to learning the game of golf. BBGS has 3 levels of adult instruction and extensive junior golf programs for ages 6-14.
Barrie Bruce, as a PGA Teaching Professional, is a strong supporter of the PGA's Play Golf America and Get Golf Ready teaching programs and can be seen at many local New England Golf events.
Through teaching programs structured like Play Golf America, Barrie Bruce Golf Schools teaches everybody how to play golf: juniors, seniors, new-to-the-game novices, and experienced golfers. BBGS makes learning a great experience by combining fun, friends and fitness.
If you're located in Massachusetts ( MA ) or New Hampshire ( NH ), come on down to the Barrie Bruce Golf Schools soon and GET YOUR GOLF ON!
BBGS encourages students to continue their playing experience through Golf Leagues, Adult tournaments, and many other special golf events throughout the season.
From ages 6-106, we encourage all golfers to come to our schools with 'a pair of sneakers and a good attitude'.
---
Our Instructors
The Instructors at Barrie Bruce Golf Schools are dedicated to golfers of all abilities. They know how to teach in a way that makes the lessons easy and fun.
Barrie Bruce: PGA Teaching Professional, and Founder and Director of the schools, Barrie started BBGS in 1984, and was the Golf Pro at the Country Club of Billerica for many years. A State Amateur Champion, Barrie has been honored with many awards from the PGA and the golf community, including NEPGA President's Plaque award for excellence in promoting the game of golf through teaching, Golf Magazine's Top 100 Teachers Award, and NEPGA Teacher of the Year. He was awarded the Junior Golf Leader Award from the NEPGA Eastern MA Chapter. Barrie has a loyal following from his work in inspiring those new to the game, as well as his fellow PGA members, and continues to be involved in NEPGA events.
Bill Dineen: Director of Junior Golf. Bill joined BBGS in 1989 and has helped grow our programs for junior golfers. Bill also instructs in our Adult Programs.
Susan Arruda: Director of Golf for Girls. Susan has been with BBGS since 1984. Susan is also an Adult Program instructor.
Don Capuccio: Director of the On-The-Course Program/Assistant Director of Junior Golf. Don has been with BBGS since 2005, and also an instructor on Intro to Golf, Junior golf, and Intro to Playing On the Course.
Kim Cliff: Kim joined BBGS in 2007, is an instructor in many of our programs: Intro to Golf, Golf for Girls, Intro to Playing On the Course, and assists in the Sunday Tournaments. An Air Force veteran, Kim played NCAA Div. 1 College Golf at USAFA, where she was awarded MVP.
Bob Beecher: Bob joined BBGS in 2009 and is an instructor in Intro to Golf, Junior golf, and Intro to Playing On the Course.
---
What people are saying

Barrie has a unique ability and keen sense to detect any flaws in my swing, while patiently and thoroughly providing me with the mechanics to fix them and improve my game. I take his drills with me on the range and apply his techniques while competing on the course. I found out first hand why his reputation as the most complete and results oriented instructor in the region is rock solid. I am a Barrie Bruce student for life!
- Mike Lynch- Sports Anchor WCVB TV Boston
- Sports Anchor WCVB TV Boston