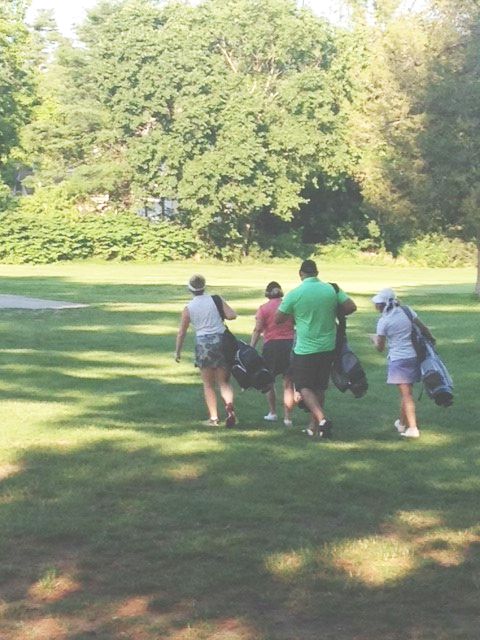 BBGS Beginner Leagues
For students who have some course playing experience, the Barrie Bruce Golf School Leagues are a great way to practice ball-striking skills, learn the rules of the game and pace of play, and make new friends.
Spring/Summer BBGS League: 
This non-competitive league is an after-work evening league. When you register, you choose from 4 evening choices (Mon-Thurs). Due to large participation in our BBGS Golf Leagues, we cannot guarantee a specific evening. You will be assigned to a group of 4, and you will stay in that group for the entire League season. Your assigned tee-times will rotate weekly. This League starts play at 6:15.
Spring/Summer League is scheduled for 16-17 weeks beginning in early May, ending late August. When signing up, you will be asked for your three evening preferences, and payment is required
Fee: $190
Tee Times: Monday - Thursday: tee times rotate weekly, starting at 6:15. All players are required to register no later than 15 minutes before their designated tee time at the 10th tee.
The Fall BBGS League: 
This 8- week League starts after Labor Day weekend. With shorter daylight hours, our BBGS Fall League is held on weekends. Chose either Saturday or Sunday. You will be assigned to the same group for Fall League. Tee-times start at 3:00 PM for this 9-hole league.
Fee: $168
Enrollment for the Fall League start mid-August. Please call or email for more details. BBGS golf leagues are open to golfers in Massachusetts ( MA ), New Hampshire ( NH ) and surrounding areas. Contact us today for more information.
What people are saying

Barrie is a committed coach who builds confidence by making you feel comfortable and capable of playing the game. He explains the fundamentals of the golf swing and provides great tips that work well. My husband and I have participated in his summer and fall golf leagues for years, which is a fun way to play the game with others of your same playing level. Barrie's reassuring demeanor encourages you to get out there and play golf. -SHARON M.